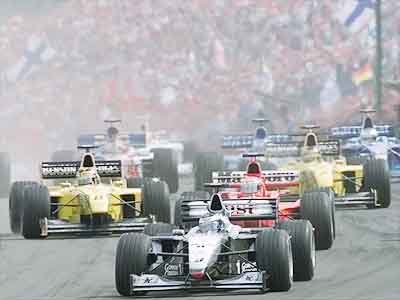 Hakkinen started the Hungarian GP from pole and as the lights went out he took advantage of his position to take the lead, followed by Irvine who shared the first row with him. Fisichella came from behind to challenge Irvine, but had to give up after half a lap in third position ahead of Frentzen and Coulthard, who had made a poor start from third position on the grid. Hill, Barrichello, Wurz, Diniz and Alesi settled behind them. Hakkinen immediately started pulling away from Irvine, gaining almost a second a lap. For the first part of the race the only excitement came from Alesi's attempts at overtaking team mate Diniz. Salo had started from 18th position and was lapping at the back of the field behind De La Rosa and Badoer. On lap 10 Zanardi took a trip on the grass, kept the engine going and rejoined in last position only to go to the pits, drive straight into the garage and retire with differential problems. Coulthard at this stage was in the frustrating position of being stuck behind Frentzen with Hill catching up with him. On lap 17 Hakkinen lapped the first of the slow drivers, Tagaki.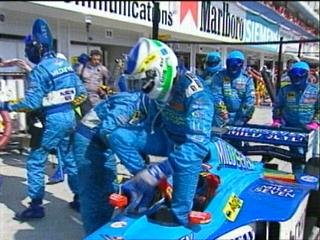 A couple of laps later Diniz span out of the track, stalled his engine and retired. Hakkinen came up to lap Salo who was immediately blue-flagged, preventing him from trying to help team mate Irvine catch up with the race leader. On lap 24 Villeneuve went for his first pit stop (8.6 seconds), rejoining behind Salo. On the following lap Tagaki retired at the same time as Fisichella pitted from third position (8.8 seconds). R. Schumacher went for his pit stop and so did Irvine (8.3 seconds) coming out of the pit lane in between Coulthard and Barrichello. Ferrari had decided to bring Irvine in early to try and beat McLaren at the pit stops game. On lap 30 Frentzen had his pit stop (6.4 seconds), letting Coulthard through to second position. Hakkinen went for his pit stop and his mechanics made up for last race's blunder by sending him back out in the lead in 7.4 seconds. After Alesi took his pit stop from fifth, it was Coulthard's turn.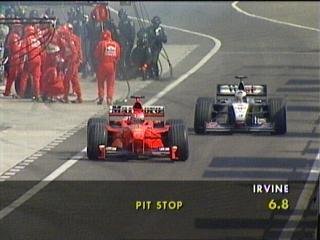 The Scot left the pits after 7.3 seconds, but it was not enough to take second place and had to settle for fourth behind Irvine and Barrichello and in front of Fisichella. Herbert went into the pits at the same time as Panis, whom he was trying to hold off. The Prost driver managed a faster stop and came out of the pits before Herbert. Barrichello went for his pit stop from third position (11.1 seconds), leaving the third place for Coulthard, who set off in chase of Irvine. Salo, who was still at the back of the field, was the last driver to pit, going in for his first stop when there were only 31 laps of 77 left to go. Soon afterwards most drivers started going for their second pit stop, Hill (8.1 seconds), Frentzen (8.0), Trulli (7.2), Villeneuve (9.5), Wurz (8.3). Fisichella too stooped for the second time, but stalled his engine in the pits. The mechanics failed to restart it and all it was left for the Benetton driver was to get out of the car and retire. Alesi too stalled his engine in the pits, managed to restart it and rejoined the race, but had lost precious time and feel into the trap of speeding in the pit lanes. Hakkinen went for his second pit stop (7.4 seconds) from a very comfortable lead position and came out in front without any problem.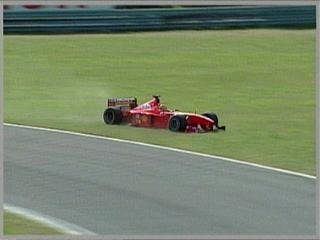 Irvine, second, and Coulthard, third, came in the pits at exactly the same time. Irvine's time in the pits was 6.8 seconds and Coulthard's 6.3, but the Irishman came out first and just managed to keep the edge on the Scot. As they left the pit lane Villeneuve and Zonta both came in. The mechanics were out for Zonta and Villeneuve waited for his team mate to finish, then parked the car in the garage and retired with mechanical problems. Coulthard could not attack Irvine from third position and it seemed that the positions were set to the end, but Irvine gave in to the pressure that Coulthard had been putting on him, braked late, went on the grass and gave second place to the McLaren. Irvine kept the engine running and rejoined in third position, immediately trying to catch up with Coulthard who was speeding away but it was all pointless and he soon settle into his third position. Nothing much else happened until the end of the race, except for Alesi having to serve a 10 seconds stop-go penalty on lap 69 for speeding in the pit lane. The Frenchman was definitely out of luck, as he rejoined the race only to stop by the side and retired with only two laps to go. Hakkinen and Coulthard brought home a one-two for a delighted Ron Dennis, with Irvine only managing third position in front of Frentzen, Barrichello and Hill.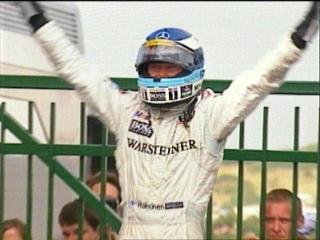 With the Hungarian GP McLaren have vindicated themselves of the bad luck that has struck them in Austria and Germany. Coulthard finally managed to run the kind of race he has been hoping for throughout the season, helping Hakkinen to close the gap between himself and Irvine in the Drivers Championship and between Ferrari and McLaren in the Constructors Championship, as well as putting himself level with Frentzen in the Drivers table. Irvine missed the chance to take the lead at the start and despite his brave efforts to keep Coulthard at bay, he proved that he too can give in to nerves and lost precious points by his own mistake. Salo on the other Ferrari was nowhere to be seen throughout the whole race. It was a very bad performance for Ferrari on a track that is considered good for them.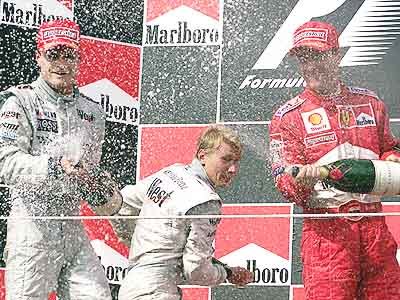 Frentzen and Barrichello performed to their usual high standard and ex-World Champion Damon Hill managed to finish within the first six in his last F1 season. Villeneuve was again struck by mechanical problems and retired, having fail to complete one single race so far this season. Alesi was unlucky too and expressed his disappointment by saying after the race that he does not know what will happen next year, but he does not want to stay at Sauber. The Frenchman has been linked with Prost, but there is no official confirmation of the deal yet.
The Hungarian GP was overall not an exciting race. Hakkinen led unchallenged from the start and Irvine lost second position to Coulthard without a fight. The likes of Frentzen, Barrichello, Fisichella and R. Schumacher never found themselves in the situation of fighting for positions and all that happened throughout the race was to wait and see whether anybody made a mistake.
Next appointment is on 29th August in Belgium.