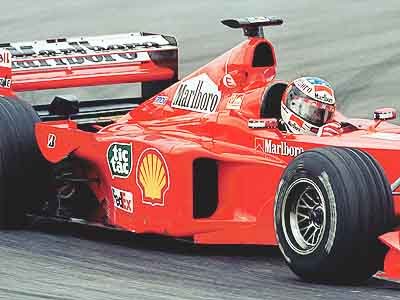 Track temperature was up to 43 degrees and air temperature to 30 degrees when the cars started the formation lap for the Malaysian GP. Trulli's car stopped with smoke coming out of the back half way though and the Italian had to run back to the pits, where he got far too late to jump into the spare car and start the race. The other cars set off as the lights changed, with M. Schumacher taking the lead from pole position in front of team mate Irvine, who had stated from the front row too, and the two McLaren of Coulthard and Hakkinen. Fisichella, probably touched by another car at the start, hit Hill's Jordan from behind causing both cars to spin. Hill had to retire while the Benetton kept on going and returned to the pits for a new nosecone. M. Schumacher showed that he had come back in style by immediately starting to build up a lead over the other drivers. Having proved that he still had the edge over the others despite his forced period away from the track, he then slowed down allowing Irvine to catch up with him. On lap five M. Schumacher made way for his team mate, who took the lead. M. Schumacher started his job of blocking the other drivers to allow Irvine to build a good lead, but Coulthard performed an aggressive manoeuvre, forced the German to brake and took second place setting off in pursuit of Irvine.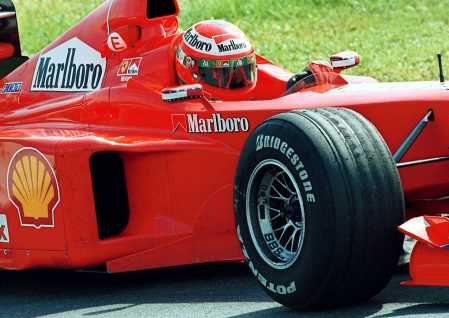 Title contender Hakkinen did not follow his own team mate's example and settled behind M. Schumacher, who kept on slowing him down allowing Barrichello to close up on the McLaren of the reigning World Champion. Herbert had the sixth position. Badoer had a come-together with a Sauber and went into a spin. Shortly before that Zonta locked his front wheels, probably because of oil on the track, parked his BAR by the side of the track and retired. On lap eight R. Schumacher stopped and retired while in ninth position. Coulthard in the meantime had caught up with Irvine and was on the Ferrari's tail, occasionally having a look but not actually trying to overtake. On lap 14 everything started going wrong for McLaren, as Coulthard suffered a car problem, started coasting back to the pits and retired. Meanwhile M. Schumacher had made the fastest lap with Hakkinen starting to get left behind. Coulthard's retirement caused M. Schumacher to move into second position and Hakkinen into third. Barrichello and Herbert moved up to fourth and fifth, with Wurz getting into the points in sixth place. On lap 19 Barrichello, caught behind M. Schumacher's blocking efforts, decided to go for an early pit stop. Irvine had been pushing hard and had managed to build up a good gap to allow himself to go for his first pit stop. Alesi saw his chance for points, attacked Wurz and overtook him for sixth position. Shortly afterwards the Austrian went for his first pit stop (9.3 seconds).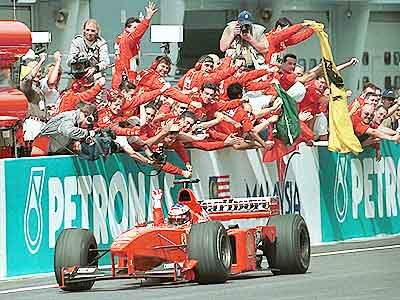 Herbert, having been left in fourth place by Barrichello's pit stop, caught up with Hakkinen and started having a look at chances for overtaking. The drivers on two stop strategies started going for their first stop, including Alesi (8.6 seconds) from sixth and Villeneuve (8.9) from fifth. Trulli was at this stage some four laps behind the rest, having lost time in running back to the pits for the spare car after his car had given up the ghost during the formation lap. Fisichella went for his pit stop (8.2 seconds) and restarted just as race leader Irvine came in (7.2 seconds), rejoining in fourth position behind M. Schumacher, Hakkinen and Herbert. M. Schumacher in the meantime had been really pushing to make space for himself to go for his pit stop. On lap 29 out of 56 Hakkinen had his first pit stop (8.7 seconds), followed shortly afterwards by M. Schumacher who, unlikely Hakkinen, put in enough fuel to finish the race. With the first pit stops out of the way Irvine had the lead in front of M. Schumacher, who was continuing his work of blocking Hakkinen. Barrichello, Herbert and Frentzen followed. On lap 34 Irvine came up behind Gené to lap him. The Spaniard moved to the side and let the race leader through.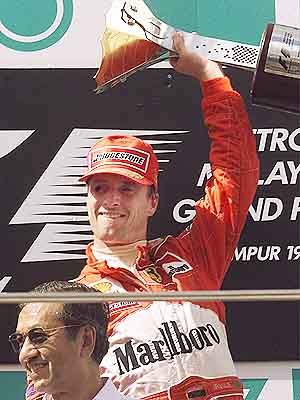 At this stage M. Schumacher was lapping one second slower than his team mate, allowing Irvine to build up a comfortable gap. Around lap 39 the second round of pit stops started. Villeneuve went into a spin, hit the grass at speed, his car bounced and then fell back on the track dragging soil, grass and debris along with it. On lap 42 Irvine had his second pit stop (6.7 seconds), rejoining behind Hakkinen. Alesi pitted from fifth position (7.5 seconds), then Fisichella had his stop too (8.0). On lap 47 Hakkinen had his second pit stop (6.9 seconds) and rejoined behind Herbert and in front of Barrichello. Irvine found himself in second position behind team mate M. Schumacher. On lap 50 Villeneuve suffered the consequences of his earlier violent trip on the grass and retired, failing again to go the whole distance. On lap 53 M. Schumacher made way for his team mate for the second time and let Irvine through into the lead. On lap 55 Hakkinen finally managed to overtake Herbert for a precious place on the podium. The race ended one lap later with a Ferrari one-two. Hakkinen was third in front of Herbert, Barrichello and Frentzen.

M. Schumacher came back in style, showing that he is more than fit not only to go the whole length of a GP, but also to do so faster than everybody else. M. Schumacher was obviously the fastest driver out on the track and played his team role superbly by giving way to Irvine twice, as Irvine had done for him so many times before, and then keeping all other drivers at bay for the good of his team mate. M. Schumacher's behaviour put the lid on all the pre-race speculations that he was not fit to be back, that he would race for himself and not the team, that he was too proud to act as Irvine's second driver. M. Schumacher found himself leading the GP twice, having spent the whole race trying hard to go slow! Irvine followed the lead of his team mate and did exactly what was expected of him. He went past the finishing line first but M. Schumacher was the real winner of the Malaysian GP.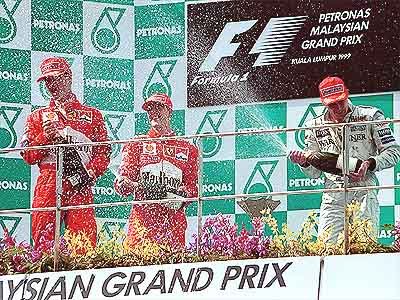 Hakkinen ran an uninspired race, never trying even to put pressure on M. Schumacher, whom his team mate Coulthard had managed to overtake in a brave and skilled manoeuvre. His only act of notice of the day was to overtake Herbert at the end of the race and the psychological pressure he had been under showed in his body language on the podium. Coulthard could have caused trouble for Irvine at the front and thrown Ferrari's otherwise perfect team strategy out of the window, had he not suffered from electrical or mechanical problems. Stewart came on strongly again, with both drivers in the points, having both had their go at reigning World Champion Hakkinen as he was being held up by M. Schumacher. The one surprise was Frentzen, who ran a race below the standard he has displayed recently, coming in sixth almost by chance after "not having been there" throughout the whole race.
After the race irregularities were found on the Ferrari cars. FIA's technical delegate Jo Bauer made the following statement:
"Following the race car numbers three and four were checked for bodywork conformity. When checking the bodywork facing the ground (article 3.12.1) it was noticed that the upper parts of the deflector panels do not lie on either the reference or step planes. In my opinion neither car does comply up to 10 millimetres with article 3.12.1 of the 1999 FIA Formula One technical regulations."
As a consequence the two Ferrari have been disqualified and Hakkinen is the undeserving winner of the Malaysian GP, also mathematically clinching the Drivers Championship for himself and the Constructors Championship for McLaren. Ferrari have lodged an appeal and FIA will be looking into the matter later in the week.
The next and final appointment of the last season of the millennium is at Suzuka on 31st October.