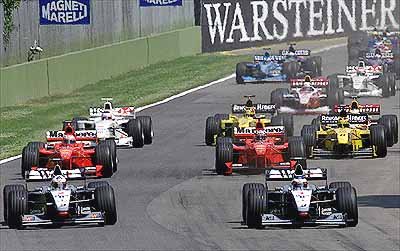 The San Marino Grand Prix brought some more bad luck to Jacques Villeneuve, who suffered gear selection problems and was stuck on the starting grid after having qualified on a good fifth position. All other drivers managed to avoid him and the race got under way with the two McLaren firmly in first (Hakkinen) and second (Coulthard) position, followed by the two Ferrari of M. Schumacher and Eddie Irvine. Barrichello and Frentzen followed in fifth and sixth position. Hakkinen immediately started getting away very fast, with team mate Coulthard being left a fair way away, but still well ahead of M. Schumacher. Irvine could not keep up with the leaders and the gap between the Irishman and the German increased consistently, though Irvine was not being challenged for fourth position. Trulli lost control of his car and was the first casualty of the race at the first corner of the race. De La Rosa and Wurz got involved in a shunt and both had to retire on lap six. De La Rosa's car stopped in the middle of the track, but the driver managed to keep the engine running and parked the car to the side in a non-dangerous position. On lap 16 Alesi was the first driver to make a pit stop, shortly followed by other drivers on three stop strategies. On lap 17 race leader Hakkinen, who had been gaining almost a second a lap on the chasing group, made a mistake, got his front wheel on the grass, lost control of the car, hit the barrier and had to retire. Interviewed later, he admitted that there was nothing wrong with the car and that the accident had been caused by his mistake.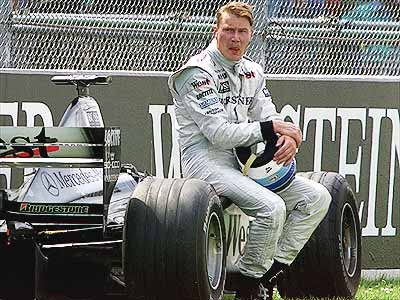 Coulthard was left leading the race, with M. Schumacher starting to chase him, having been informed of Hakkinen's retirement. Irvine found himself stuck behind Gené and Tagaki battling for position. Tagaki attempted an attack on Gené but Gené closed the door on him, forcing the Japanese driver to make and error and go on the dirt. Irvine saw his chance and lapped the two cars at once by passing between them. On lap 27 R. Schumacher retired shortly after pitting. Championship leader Irvine went for his first pit stop and managed to rejoin in third position in front of Barrichello. M. Schumacher went for his pit stop on lap 30 (6.9 seconds) and managed to keep his second position. Tagaki was handed a 10-seconds stop-go penalty but failed to take it because at almost the same time he was notified of the penalty he parked his car by the side of the road and retired. M. Schumacher, aware of the fact that Coulthard had not stopped for his pit stop, started attacking to reduce the distance between himself and the McLaren as much as possible, doing several best laps in the process (also beating Hakkinen's previous best lap). Coulthard, being on a one-stop strategy (M. Schumacher was on a two-stop strategy), had to do several laps on old tyres, allowing the Ferrari driver to reduce the gap. On lap 35 Coulthard finally pitted (9.2 seconds), but M. Schumacher had eaten up too much of the Scot's advantage and the McLaren rejoined the race behind M. Schumacher's Ferrari and also behind some traffic which slowed him down.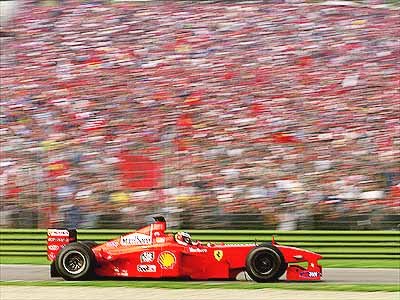 Irvine on the other Ferrari was having a bit of trouble, as lapped driver Diniz lost momentarily control of his car and waved dangerously in front f him, but without consequences. Diniz drove back to the pits where he had his steering wheel changed and then rejoined the race having lost at least one lap. Alesi, seeing M. Schumacher coming up behind to lap him, gave way and allowed the German to continue in his chase of his first victory of 1999. At this point Coulthard was still stuck in traffic and was rather obviously becoming increasingly frustrated for being held up. The McLaren team complained to the race officers, with the result that Panis, who was battling for position with Fisichella, was blue flagged. The Prost driver gave way to the McLaren but Coulthard made a mistake probably out of nerves and went out on the dirt, letting Panis overtake him again and finding himself back in the original situation. At this stage in the race, with 23 laps to go, M. Schumacher was leading the race with 15.6 seconds advantage over Coulthard. Panis let Coulthard pass again, only for the McLaren driver to become stuck behind Fisichella. In the meantime M. Schumacher was making the most of the clear track in front of him by setting another fastest lap. When Fisichella finally allowed Coulthard to pass, Panis tried to take advantage of the door being left open by the Benetton driver. The Italian was not easily tricked and forced Panis to make a mistake, which caused the Prost driver to lose control of his car and damage his front suspension. Panis went back to the pits to have a new front fitted and rejoined the race, having lost his position and the chance to battle Fisichella.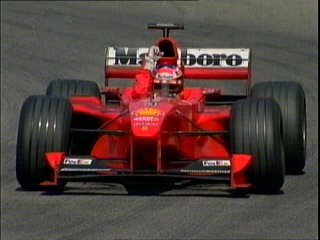 Ferrari's test driver Badoer saw M. Schumacher come up behind to lap him and went to the extreme of taking his car on the dirt out of the track to ensure that race leader got a clear track to overtake him. On lap 45 M. Schumacher stopped for his second pit stop and easily rejoined in first position and clear of traffic, though his advantage on Coulthard, who was on a one-stop strategy, was reduced to only just over 4 seconds. Ferrari's hopes of getting two drivers on the podium were dashed when, on lap 46, Irvine's engine started pouring white smoke and the Irishman had to retire. On lap 48 Frentzen retired too, while Panis just parked his car to the side of the road and stopped. Diniz went straight on a bend, hit the barrier and retired. Towards the final stage of the race M. Schumacher found himself behind Hill and Barrichello who were battling for third position and was delayed, allowing Coulthard to catch up with him a bit. Eventually M. Schumacher managed to lap the two cars and continued his race towards victory. On lap 59 Herbert suffered a blown engine and had to retire, while Zanardi skidded on the oil left on the track by either Herbert or Irvine and retired too. M. Schumacher went on to win the GP, followed by Coulthard in second position, then Barrichello, Hill, Fisichella and Alesi, who gained the first season point for Sauber.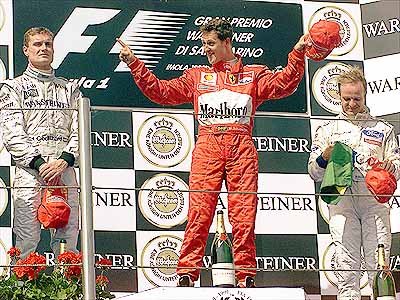 The San Marino GP highlighted some important elements that are likely to characterise the rest of the season. The McLaren were vastly superior to all the other cars, in fact Ferrari had to go for a two stop strategy in order to have a lighter fuel load and even so the Ferrari cars were slower that the McLaren. Had Hakkinen not retired because of his mistake, he would easily have won the race. Ferrari is very good at playing its cards and at planning a race strategy. Even so, McLaren's superior speed was evident on a track that is frequently used by Ferrari for testing and which M. Schumacher and Irvine should have known well enough to give them an advantage. Coulthard's performance was surprising because, given his considerably faster car, he should have been able to overtake the traffic which had held him up, which would have given him a chance of fighting for the race. Coulthard's behaviour in the race and Hakkinen's self-confessed error can perhaps be explained by an excess of confidence caused by McLaren's obvious superiority over the other cars. Ferrari also suffered the first reliability problem of the season with Irvine's engine failure. Irvine's retirement caused him to lose the Championship leadership in favour of his team mate. Barrichello's third place was a confirmation of the skill of this driver, who is perhaps finally realising his potential in Formula 1.
Next appointment is on the 16th of May in Monaco.